Sunglasses TYLER
hi, i am tyler!
I'm brand new to the POP EYES Family and kind of like the big brother of the - also brand new - CODY! My features, paired with my cool design and my top price will inspire you!
I'm a single-shield sunglass, which means I only have one lens that's curved in the frame. The advantage for you is that your eyes are well protected from the sun and (travel) wind or dirt and you also enjoy an extra large field of vision. The disc is made of high-quality polycarbonate. You can also adapt me to the shape of your head and nose super easily, because both my nose pads and my temple ends are bendable or adjustable and also rubberized for extra good grip. My frame is cut rather large and looks super modern and exciting due to the angular design.
By the way, I'm available in three casual colors - so you're spoiled for choice ;-)
PRODUCT details + FEATURES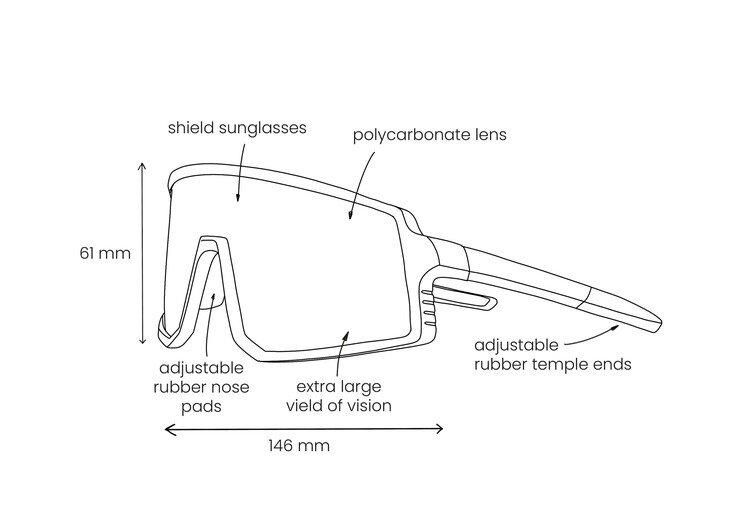 Shield sunglasses
TYLER fits comfortably and more closely to the head than other sports glasses due to the curve of the frame. TYLER is also flush with your face at the side edges. Your eyes are perfectly protected from wind, dirt and sunlight.

Polycarbonate lens
Polycarbonate sunglasses are particularly break-resistant. So if you drop your sunglasses, the lenses will not be damaged immediately. However, should the glass be destroyed in the worst case, there is no risk of injury because polycarbonate glasses do not splinter. Polycarbonate lenses can also be ground very thin, making them extremely light. The material also offers excellent UV protection. For this reason, sunglasses with polycarbonate lenses are perfect for lifestyle and sports glasses. It goes without saying that we use polycarbonate for the lenses of all POP EYES sunglasses.

anti-reflective coating
An anti-reflective coating is a layer applied to a surface to reduce the reflection of light. This is commonly used on eyeglass lenses, screens, camera lenses, and other optical devices to improve visibility and reduce glare and reflections. It should be noted that an anti-reflective coating cannot eliminate 100% of reflections. However, it can reflect light affecting visibility and affecting contrast and color accuracy.

UV protection
UV radiation is an invisible part of sunlight that can be harmful to the eyes. It is therefore important that sunglasses offer effective UV protection. A good pair of sunglasses should be able to block at least 99% of harmful UV rays to protect the eyes from long-term damage. Overall, it is important that sunglasses offer effective UV protection to protect the eyes from the harmful effects of solar radiation. All our sunglasses protect against UVA UVB rays.

VLT
"VLT" stands for "Visible Light Transmission" and refers to the percentage of visible light that passes through a pair of glasses. The lower the VLT value, the darker the glasses and the lower the amount of visible light. A high VLT rate is appropriate for bright days, while a low VLT rate is appropriate for overcast days or strong sunlight.
Blue
categorie 3

Silver
categorie 3
Rainbow
categorie 3


mirrored sunglass lens
Mirrored sunglasses are all the rage these days and come in a variety of different colors. Mirrored sunglasses have an additional reflective coating on the outside of the lens. The mirroring is applied in several layers. This structure results in trendy effects that create color gradients. In bright sunshine and strong reflections, the sunlight is reflected much better and your eyes are perfectly protected from the sun's UV rays.

weight
TYLER is super light and only weighs 33 g

rubberized nose pads
You can enjoy particularly high wearing comfort thanks to the rubberized nose pads. These are small pads on the bridge of the sunglass that rest on the wearer's nose and help hold the glasses in place and evenly distribute their weight.

MADE IN TAIWAN
TYLER is manufactured in Taiwan in a renowned manufacturing facility.
Conclusion: I am ideal for all boys and girls who are looking for sports sunglasses with top design, quality and price!