Sunglasses JESSIE
Hi There!
I am Jessie, the latest lifestyle sunglasses from the POP EYES collection, designed for all the cool girls & boys.
With my eye-catching square frame, I attract all the attention and give you a touch of exclusivity. My timeless design and black color perfectly complement any outfit, making you look effortlessly stylish.
My high-quality polycarbonate lenses with anti-reflective coating are shatterproof and scratch-resistant, ensuring exceptional clarity. They provide excellent UV protection, keeping your eyes safe from harmful sun rays while allowing you to perceive the world around you in clear and vibrant colors.
So, if you're looking for sunglasses that are not only functional but also make a true fashion statement, then I am the perfect choice for you!
Life is too short to wear boring sunglasses.
PRODUCT details + FEATURES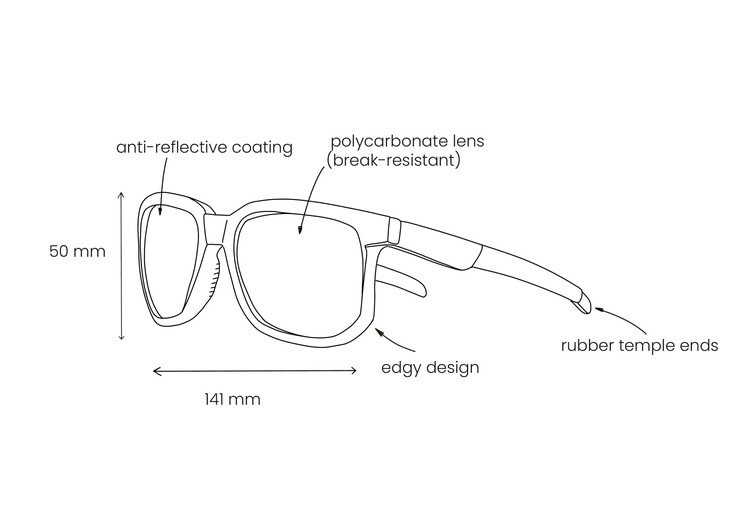 Polycarbonate lens
Polycarbonate sunglasses are particularly break-resistant. So if you drop your sunglasses, the lenses will not be damaged immediately. However, should the glass be destroyed in the worst case, there is no risk of injury because polycarbonate glasses do not splinter. Polycarbonate lenses can also be ground very thin, making them extremely light. The material also offers excellent UV protection. For this reason, sunglasses with polycarbonate lenses are perfect for lifestyle and sports glasses. It goes without saying that we use polycarbonate for the lenses of all POP EYES sunglasses.

anti-reflective coating
An anti-reflective coating is a layer applied to a surface to reduce the reflection of light. This is commonly used on eyeglass lenses, screens, camera lenses, and other optical devices to improve visibility and reduce glare and reflections. It should be noted that an anti-reflective coating cannot eliminate 100% of reflections. However, it can reflect light affecting visibility and affecting contrast and color accuracy.

UV protection
UV radiation is an invisible part of sunlight that can be harmful to the eyes. It is therefore important that sunglasses offer effective UV protection. A good pair of sunglasses should be able to block at least 99% of harmful UV rays to protect the eyes from long-term damage. Overall, it is important that sunglasses offer effective UV protection to protect the eyes from the harmful effects of solar radiation. All our sunglasses protect against UVA UVB rays.

VLT
"VLT" stands for "Visible Light Transmission" and refers to the percentage of visible light that passes through a pair of glasses. The lower the VLT value, the darker the glasses and the lower the amount of visible light. A high VLT rate is appropriate for bright days, while a low VLT rate is appropriate for overcast days or strong sunlight
| | |
| --- | --- |
| | categorie 3 |
| | |
weight
JESSIE is super light and only weighs 28 g.

MADE IN ITALY
JESSIE is produced in southern Italy.
Conclusion: ALL GIRLS who are looking for cool lifestyle glasses have come to the right place!