Sunglasses FRIEDA photochromic lens
Hello, I am FRIEDA photochromic - your sunglasses with self-tinting lenses!
I am brand new to the POP EYES family and the little sister of FRED: So, if you're looking for a slightly smaller (sports) sunglasses because you have a smaller or narrower face, then I'm the perfect fit for you!
My photochromic lens (Category 1-3) automatically darkens in bright sunlight and lightens in darker environments and in poorer weather conditions. So, my lens easily adapts to changing light conditions!
Therefore, my photochromatic lenses provide optimal protection against UVA and UVB radiation. Another advantage is that your eyes are relieved by the automatic adjustment of the lens to the lighting conditions, making them much less tired and perfectly protected after a bike ride or run.
What's really cool are my additional features: As a so-called Shield sunglasses - with a single continuous lens - and thanks to my retro look, I'm currently quite trendy.
But my single lens not only looks cool, it also offers you an extra large field of view. Additionally, it completely covers your eyes, providing excellent protection against the sun and wind during your ride. Thanks to the curvature of the frame, I sit comfortably on your head, and my side edges align flush with your face. This also contributes to protecting your eyes from sunlight and (wind) during your ski or bike tour or your run, making me the perfect companion. You'll enjoy exceptional comfort thanks to my rubberized nose pads.
My frame is combined with a continuous polycarbonate lens with anti-reflective coating.
PRODUCT details + FEATURES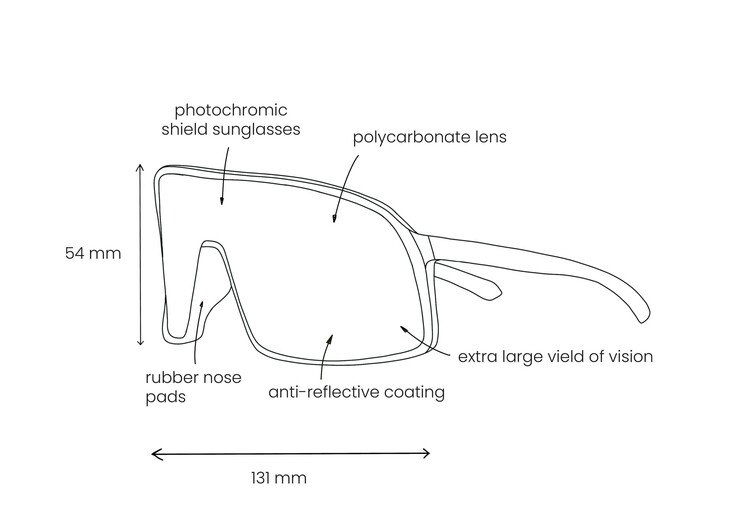 Photochromatic Lens
Photochromatic or photochromic sunglasses have a range of benefits that make them a must-have for you if you're regularly active outdoors.
Automatic adaptation to changing light conditions: Photochromatic sunglasses automatically adjust to changing light conditions by darkening in bright sunlight and lightening in weaker light. This improves comfort and visibility without the need to take off the glasses and replace them with another pair.
Protection against harmful UV light: Photochromatic sunglasses offer high protection against UV rays that can cause eye damage.
Convenience: Since photochromatic sunglasses automatically adapt to changing light conditions, you don't have to constantly put them on and take them off or wear a separate pair for different lighting conditions.
Versatile performer: Due to their automatic adjustment to lighting conditions, photochromatic sunglasses are suitable for a variety of outdoor activities such as cycling, running, skiing, hiking, downhill, and much more.

how does a photochromic lens work?
Photochromic lenses are treated with molecules that respond to changing light. The darkening of the lens is triggered by UV light. As the amount of UV light decreases, the tint of the lens also diminishes. It takes approximately one to one and a half minutes for the lens to completely darken. The lightening process takes a bit longer.

Shield sunglasses
Our FRIEDA sits comfortably and snugly against the head due to the curvature of the frame, more so than other sports glasses. FRED also aligns flush with your face at the side edges. This ensures that your eyes are perfectly protected from wind, debris, and sunlight.

Polycarbonat lens
Polycarbonate lenses for sunglasses are particularly impact-resistant. So, if your sunglasses happen to fall, the lenses won't be easily damaged. In the rare event that the lens does get damaged, there's no risk of injury since polycarbonate lenses do not shatter. Additionally, polycarbonate lenses can be ground very thin, making them extremely lightweight. The material also provides excellent UV protection. For these reasons, sunglasses with polycarbonate lenses are perfect for both lifestyle and sports eyewear. It goes without saying that we use polycarbonate for the lenses of all POP EYES sunglasses.

Antireflective coating
An anti-reflective coating (also known as an AR coating) is applied to optical surfaces like eyeglass lenses to reduce reflections and glare. The anti-reflective coating is composed of thin layers with different refractive indices that are designed to effectively reduce the light reflected at the surface. By minimizing reflections, the image becomes clearer and more contrasted.

UV-protection
Ultraviolet (UV) radiation is an invisible part of sunlight that can be harmful to the eyes. Prolonged exposure to UV rays can lead to eye issues such as cataracts and macular degeneration. Therefore, it is crucial that sunglasses provide effective UV protection. A good pair of sunglasses should be able to block at least 99% of harmful UV radiation to safeguard the eyes from long-term damage. All our sunglasses protect against both UVA and UVB rays.

VLT
"VLT" stands for "Visible Light Transmission" and refers to the percentage of visible light that passes through a lens. A low VLT number indicates that the lenses are heavily tinted and allow less light to pass through, while a high VLT number indicates that the lenses are less tinted and allow more light to pass through.
In sunglasses, the categorization based on VLT is often used to describe the degree of darkness or tint of the lenses. These categories typically range from 0 to 4, where 0 represents the lowest VLT value (darkest lenses) and 4 represents the highest VLT value (lightest lenses).
Photochromic

Categorie 1-3
Mirrored sunglasses lens
Mirrored sunglasses are those with lenses that have a reflective coating. This coating is meant to reflect and reduce incoming light, providing better visibility and increased comfort while wearing the glasses. The mirroring is applied in several layers, creating trendy effects that produce color gradients. Mirrored sunglasses are currently very popular, and there is a wide variety of different colors available.

weight
FRIEDA is super lightweight, weighing only 22 grams.

rubberized nose pads
You'll enjoy exceptional comfort thanks to the rubberized nose pads. These are small pads on the bridge of the sunglasses that rest on the wearer's nose, helping to keep the glasses in place and distribute their weight evenly.

MADE IN ITALY
FRIEDA is produced in the south of Italy.
Conclusion: Thanks to the self-tinting lens, you only need one pair of glasses for different lighting conditions.