Sunglasses EDDY Limited Edition
Hi, I'm EDDY!
Thanks to my modern design, high-quality materials, and lightweight construction, I am the bestseller in the POP EYES collection.
Now, I am available in brand new colors, but only in a limited edition:
Radiant Pink: This vibrant color option gives a fresh and sunny look, perfect for the summer!
Cool Mint: If you're looking for a touch of coolness and freshness, I am the ideal choice in Mint. It evokes tropical waters and a radiant sky.
Elegant Purple: This cool and sophisticated color variant adds a touch of elegance and glamour to me, perfect for standing out from the crowd.
Classic Army Green: Army Green is back in trend, providing a stylish and versatile look.
Because of my numerous accessories, I am a true all-rounder:
In addition to my mirrored polycarbonate standard lens, two interchangeable lenses in black (polarized) and clear glass are included.
I'm in a hard case so that I'm well protected when you're not carrying me. You also get a storage bag and a cleaning cloth to keep me clean at all times. If necessary, you can also have your optician adjust me to your individual vision with the included optical clip.
Due to my frame curve, I am particularly comfortable on the head and due to my size, I protect your eyes perfectly from the sun and (travel) wind.
My temples are super light and flexible and thanks to the rubberized temple ends there is no risk of them causing an uncomfortable pressure point. Slipping is prevented by my rubber nose pads.
PS: You can order more interchangeable lenses in cool colors! You can find them in the shop under "spare lens EDDY".
PRODUCT details + FEATURES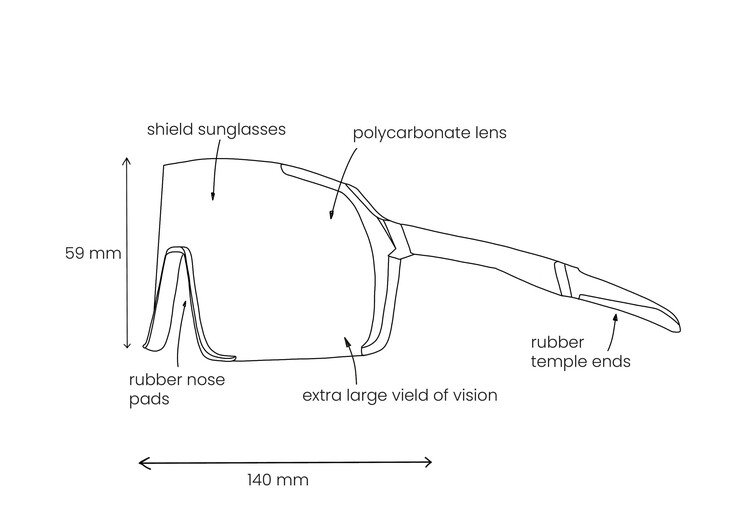 SHIELD SUNGLASSES
Due to the curve of the frame, our EDDY fits comfortably and more closely to the head than other sports glasses. EDDY also closes flush with your face at the side edges. Your eyes are perfectly protected from wind, dirt and sunlight.

POLYCARBONATE LENS
Polycarbonate sunglasses are particularly break-resistant. So if you drop your sunglasses, the lenses will not be damaged immediately. However, should the glass be destroyed in the worst case, there is no risk of injury because polycarbonate glasses do not splinter. Polycarbonate lenses can also be ground very thin, making them extremely light. The material also offers excellent UV protection. For this reason, sunglasses with polycarbonate lenses are perfect for lifestyle and sports glasses. It goes without saying that we use polycarbonate for the lenses of all POP EYES sunglasses.

ANTI-REFLECTIVE COATING
An anti-reflective coating is a layer applied to a surface to reduce the reflection of light. This is commonly used on eyeglass lenses, screens, camera lenses, and other optical devices to improve visibility and reduce glare and reflections. It should be noted that an anti-reflective coating cannot eliminate 100% of reflections. However, it can reflect light affecting visibility and affecting contrast and color accuracy.

UV PROTECTION
UV radiation is an invisible part of sunlight that can be harmful to the eyes. It is therefore important that sunglasses offer effective UV protection. A good pair of sunglasses should be able to block at least 99% of harmful UV rays to protect the eyes from long-term damage. Overall, it is important that sunglasses offer effective UV protection to protect the eyes from the harmful effects of solar radiation. All our sunglasses protect against UVA UVB rays.

VLT
"VLT" stands for "Visible Light Transmission" and refers to the percentage of visible light that passes through a pair of glasses. The lower the VLT value, the darker the glasses and the lower the amount of visible light. A high VLT rate is appropriate for bright days, while a low VLT rate is appropriate for overcast days or strong sunlight.
Sunset Red

Cat 2

Ocean Blue

Cat 2-3

Silver Star

Cat 2-3

Cosmic Pink

Cat 2-3

Black Polarized

Cat 3
MIRRORED SUNGLASS LENS
Mirrored sunglasses are all the rage these days and come in a variety of different colors. Mirrored sunglasses have an additional reflective coating on the outside of the lens. The mirroring is applied in several layers. This structure results in trendy effects that create color gradients. In bright sunshine and strong reflections, the sunlight is reflected much better and your eyes are perfectly protected from the sun's UV rays.

WEIGHT
EDDY is super light and only weighs 30 g

RUBBERIZED NOSE PADS
You can enjoy particularly high wearing comfort thanks to the rubberized nose pads. These are small pads on the bridge of the sunglass that rest on the wearer's nose and help hold the glasses in place and evenly distribute their weight.

MADE IN FAR EAST
EDDY is manufactured in Far East in a renowned production facility.
CONCLUSION: MY FEATURES MAKE ME THE PERFECT COMPANION FOR YOUR UPCOMING BIKE TOURS, RUNS AND OTHER OUTDOOR ACTIVITIES.