2-in-1 Sunglasses RILEY
Hey, I AM RILEY,
the customizable sunglasses that adapt to your style and needs.
Full frame or half frame - you decide. With my innovative construction, you can choose how you want to wear me. Due to my detachable lower frame, you can wear me as a full-frame sunglasses for maximum protection or as an extra-light half-frame sunglasses for a sportier look - I adapt to your needs.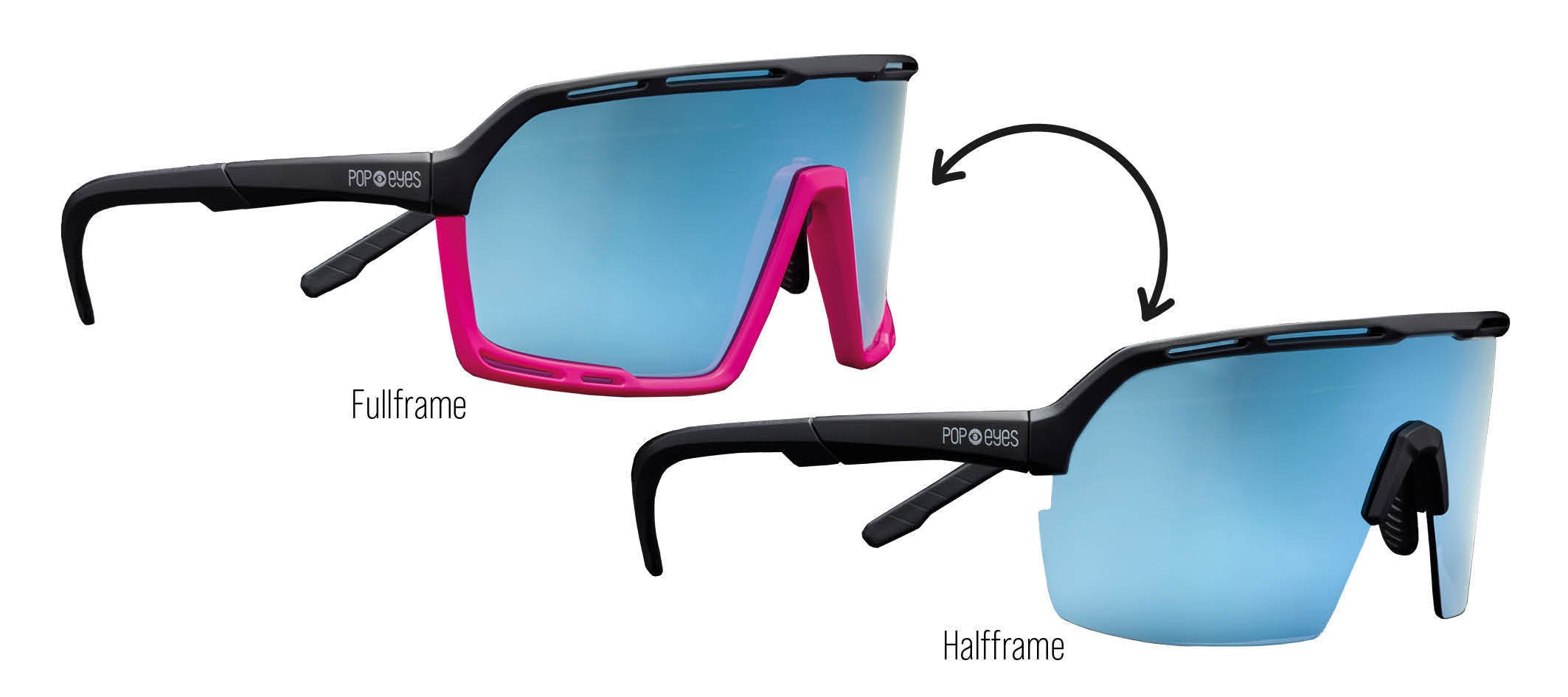 Personalize your style with interchangeable frames. In addition to the fullframe-adapter of each design, you can order interchangeable frames in various colors to make your RILEY truly unique.. From cool mint to casual purple to classic white, you can add accents and customize RILEY to your personal preferences. You can find the interchangeable frames here.
Function meets comfort.
Of course, I stand for more than just style; I also offer top-notch protection. My lenses provide excellent UV protection, ensuring your eyes are shielded from harmful rays. Thanks to my non-slip and adjustable nose pads, as well as extra-long and super-flexible temple ends, I fit perfectly even when you're on the move.
PRODUCT details + FEATURES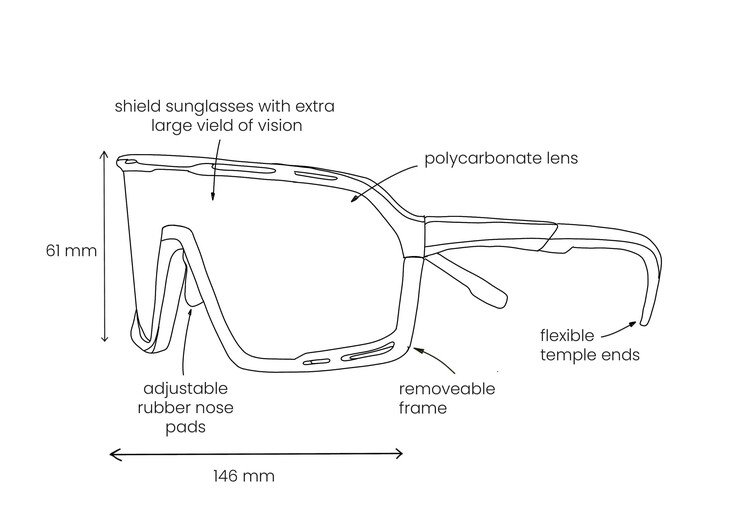 Shield Sunglasses
Our RILEY fits comfortably and snugly against the head due to the curve of the frame, more so than other sports sunglasses. When worn as a full-frame sunglasses, RILEY aligns flush with your face on the sides, providing perfect protection against wind, dirt, and sunlight for your eyes.
Full Frame or Half Frame
RILEY can be worn as either a half-frame or full-frame sunglasses. You can therefore decide based on the situation which advantages are currently important to you.
Advantages of Full Frame Sunglasses:
Robust and Sturdy: Full-frame sunglasses are generally more robust and resistant to impacts and falls compared to half-frame sunglasses.
Better Protection: As the frame encloses the entire lens, full-frame sunglasses offer comprehensive protection against side sunrays and foreign objects.
Enhanced UV Protection: Full-frame sunglasses typically provide better shielding against harmful UV rays, as they have fewer open areas.
Less Dust and Dirt: Since the full-frame frame fits more closely to the face, fewer dust, dirt, and other particles can reach the surface of the eyes.
Advantages of Half Frame Sunglasses:
Lightweight: Half-frame sunglasses are lighter than full-frame sunglasses, making them even more comfortable for extended wear.
Peripheral Vision: Since the lower and partially lateral part of the frame is open, there is full visibility downward, and the peripheral field of vision is slightly wider.
Ventilation: The open lower frame allows for better ventilation, reducing the likelihood of fogging. This can be particularly advantageous during strenuous activities or if you tend to sweat heavily.
Polycarbonate Lens
Sunglasses lenses made of polycarbonate are exceptionally shatter-resistant. If your sunglasses happen to fall, the lenses are less likely to be damaged. In the rare event that the lens does break, there is no risk of injury, as polycarbonate lenses do not shatter. Additionally, polycarbonate lenses can be ground very thin, making them extremely lightweight. The material also offers excellent UV protection. For these reasons, sunglasses with polycarbonate lenses are perfect for both lifestyle and sports eyewear. It goes without saying that we use polycarbonate for the lenses of all POP EYES sunglasses.
Anti-Reflective Coating
An anti-reflective coating (also known as AR coating) is applied to optical surfaces like eyeglass lenses to reduce reflections and glare. The anti-reflective coating consists of thin layers with different refractive indices, designed to effectively reduce the light that is reflected on the surface. By reducing reflections, the image becomes clearer and more contrasted.
UV Protection
Ultraviolet (UV) radiation is an invisible part of sunlight that can be harmful to the eyes. Prolonged exposure to UV rays can lead to eye problems such as cataracts and macular degeneration. Therefore, it is important for sunglasses to provide effective UV protection. A good pair of sunglasses should be able to block at least 99% of harmful UV radiation to protect the eyes from long-term damage. All our sunglasses protect against UVA and UVB rays.
VLT
"VLT" stands for "Visible Light Transmission" and refers to the percentage of visible light that passes through a lens. A low VLT number means that the lenses are heavily tinted and allow less light to pass through, while a high VLT number indicates that the lenses are less tinted and allow more light to pass through. In sunglasses, the categorization by VLT is often used to describe the degree of darkening or tinting of the lenses. These categories typically range from 0 to 4, with 0 representing the lowest VLT value (darkest lenses) and 4 representing the highest VLT value (lightest lenses).
| | |
| --- | --- |
| | CATEGORY 2 |
| | CATEGORY 3 |
| | CATEGORY 3 |
Mirrored Sunglass Lenses (RILEY PINK & Riley All Black)
Mirrored sunglasses are those with lenses that have a reflective coating. This coating serves to reflect and reduce incoming light, providing better visibility and increased comfort while wearing the glasses. The mirroring is applied in multiple layers, creating trendy effects and producing color gradients. Mirrored sunglasses are currently very popular, and there is a wide variety of different colors available.
Rubberized & Adjustable Nose Pads
You'll experience particularly high wearing comfort thanks to the rubberized and adjustable nose pads. These are small pads on the bridge of the sunglasses that rest on the wearer's nose, helping to keep the glasses in place and distribute their weight evenly.
Weight
RILEY is super lightweight, weighing only 33 g with the lower frame or 29 g without the lower frame.
MADE IN the Far East
RILEY is produced in Taiwan at a renowned manufacturing facility.
CONCLUSION: RILEY combines functionality and individuality, making it the perfect sunglasses for all outdoor enthusiasts.