Ski Goggles LARRY Birdie
HI I am larry!
With me, thanks to my trendy-minimalist and nearly frameless lens, you always have everything in view. My cylindrical double lens is made of super durable polycarbonate – this ensures break resistance and 100% UV protection!
Furthermore, my lens is equipped with anti-fog technology, providing you with sensational visibility in any weather. The strap is equipped with a silicone strip to prevent slipping. The foam padding on the frame also offers you high wearing comfort.
Regarding design, you can choose from two different cool variants.
By the way, you can find more information about my technical features listed below or on the Features page or in the User Guide!
PRODUCT details + FEATURES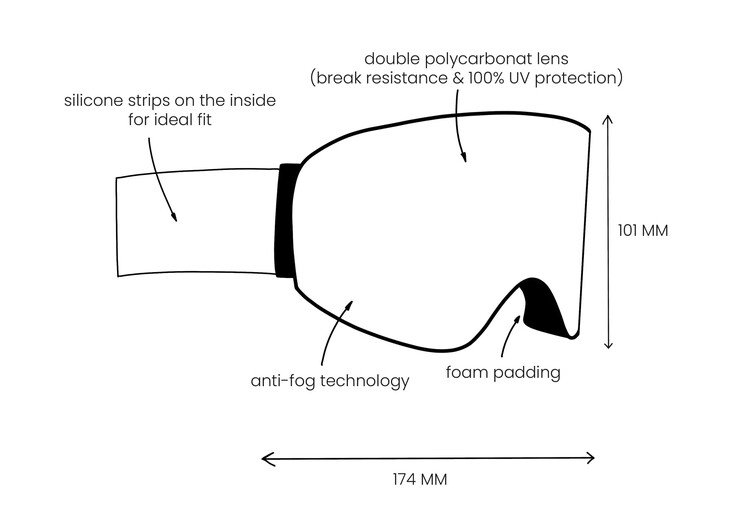 Ski goggles with anti-fog technology
Our ski goggles LARRY are equipped with a high-quality anti-fog coating on the lenses. Whether in bad weather or during sweaty descents, the lens of our ski goggles LARRY remains free from fogging. Furthermore, the ski goggles LARRY have a ventilated frame and ventilation slots that ensure optimal air circulation and thereby prevent the lenses from fogging. You can rely on your vision always staying crystal clear, with no moisture collecting on the lenses.
Double lens made of polycarbonate for break resistance and 100% UV protection
The ski goggles LARRY offer ultimate protection and clear vision through the double lens made of polycarbonate. Polycarbonate is an extremely robust material that provides excellent break resistance in case of falls or impacts. The double lenses of our ski goggles LARRY also reliably protect your eyes from sunlight. They offer 100% UV protection, preserving your eyes from the harmful effects of the sun's rays.
Silicone strips on the strap for optimal fit
The strap of our ski goggles LARRY is equipped with silicone strips to ensure an optimal fit. These three silicone strips ensure that the ski goggles stay securely on your helmet while skiing or snowboarding, without slipping. The strap is adjustable, allowing you to customize the ski goggles to fit your helmet. This ensures the crucial perfect and comfortable fit throughout the day.
Foam padding for pressure-free wearing comfort
The foam padding of our ski goggles LARRY ensures pressure-free wearing comfort. It ensures that the ski goggles fit snugly without causing uncomfortable pressure points. The foam padding is soft and comfortable, allowing you to spend the entire day on the slopes. Additionally, it provides insulation against cold and wind.
Also suitable as ski goggles for eyeglass wearers
The ski goggles LARRY are also suitable for eyeglass wearers and offer a comfortable and practical solution for those who rely on prescription glasses. LARRY has a material recess in the foam padding that allows you to wear your prescription glasses under the ski goggles. Please note that this does not apply to large, fashionable glasses.
Conclusion: If you're into trendy, nearly frameless eyewear design combined with top-notch technology, then you're in the right place with me!