Ski Goggles JAMIE
Description:
A star is born!
I'm Jamie and I'm brand new to the POP EYES family. And what should I say? My features will appeal to you! I am equipped with an interchangeable magnetic lens construction and you can replace my lenses in no time at all. The eight ideally positioned magnets still ensure a super strong hold whilst using me.
Depending on the design variant, I am equipped with the color mirrored lens shown. In addition to this super-casual basic lens, you will receive two additional magnetic interchangeable lenses in clear glass or, depending on the design variant, in blue mirrored or in black. So you have a total of three (!!) magnetic interchangeable lenses available to be perfectly equipped for any weather.
All three magnetic interchangeable lenses are cylindrical double lenses made of super-robust polycarbonate, which guarantees you the best possible protection, break resistance and 100% UV protection included. The extra-large, frameless windows also offer you a super-large field of vision. The anti-fog technology also gives you a clear view at all times. The foam pad in my frame makes it comfortable to wear. The silicone strip on the goggle strap also guarantees you a perfect fit in the helmet.
Conclusion:
I am the ideal ski goggles if you are on the mountains a lot and want to be prepared for any weather.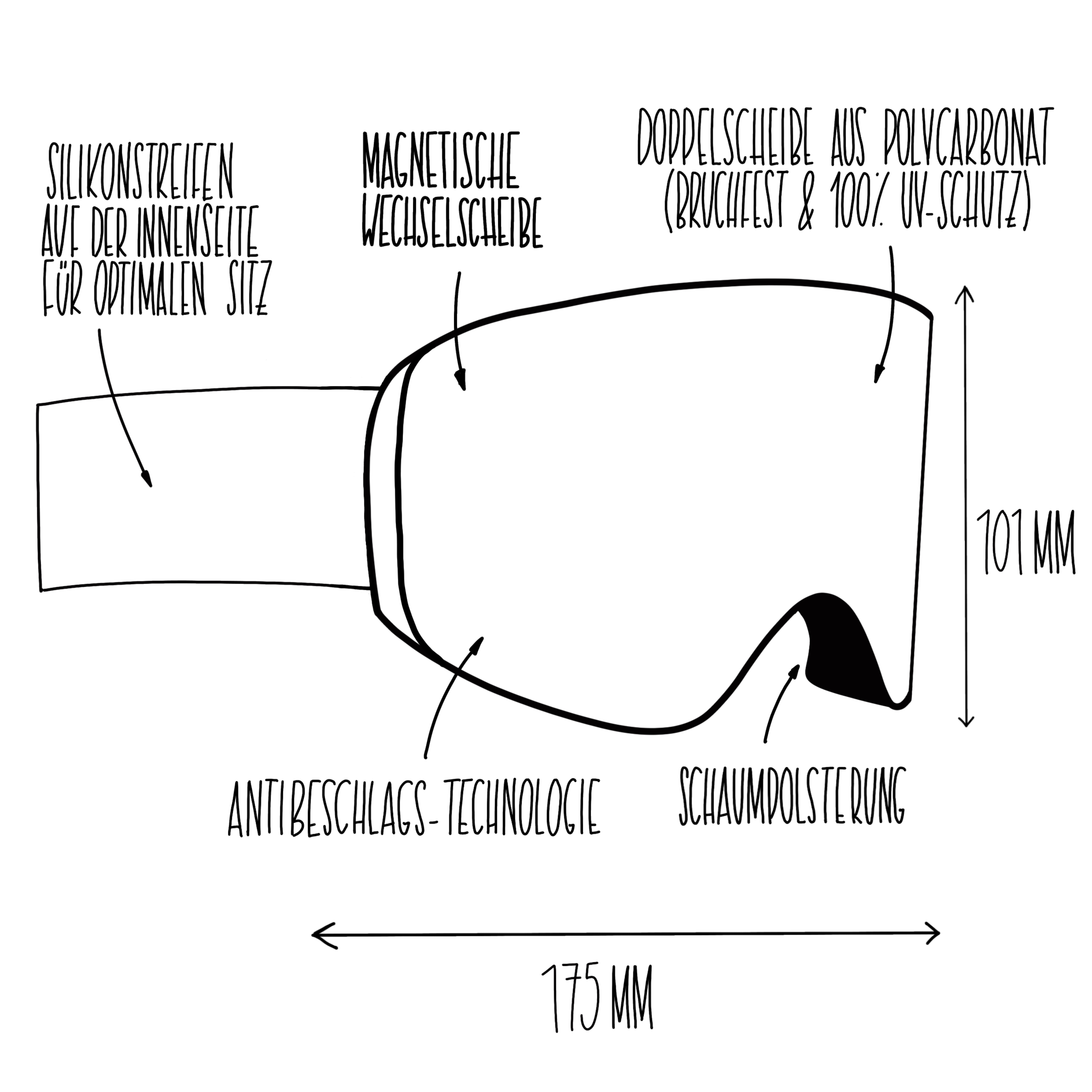 We have summarized the key features of our ski goggles Jamie for you:
Ski goggles with magnetic interchangeable lens technology

three (!!) magnetic interchangeable lenses included

interchangeable lenses can be exchanged in seconds

eight ideally positioned magnets for a super strong hold

double lens made of polycarbonate for resistance to breakage and 100% UV protection

silicone strips on the glasses strap for an optimal fit

foam padding for pressure-free comfort

also suitable as ski goggles for those who wear glasses

for all mountain enthusiasts among you who do not want to compromise in terms of function and design
Perfect Match: