Ski Goggles BOB
Hi, i am Bob!
I'm like the chameleon in the POP EYES ski goggles collection. Why? Because I can adapt super easily to changing light conditions! So if the two of us are out in the mountains and the weather changes, you'll be perfectly equipped thanks to my additional magnetic lens! The darker additional lens can be easily removed and fixed again with a flick of the wrist if necessary thanks to the integrated magnets. So everything is very easy!
But that's not all of my features that will inspire you: My anti-fog technology prevents fogging and thanks to the almost frameless design, your field of vision is enormous. My double lens is made of super robust polycarbonate, which guarantees you break resistance and 100% UV protection. Well, and then there are the silicone strips on the goggle strap, which ensure an optimal fit on the ski helmet and the foam padding on the frame for a lot of wearing comfort.
Not to forget my cool design, of course - I'm available either in the eye-catching True Blue with a blue additional lens or in the casual Black Shadow with a black additional lens.
You can find more information about my technical features on the Features page or in the User Guide!
PRODUCT details + FEATURES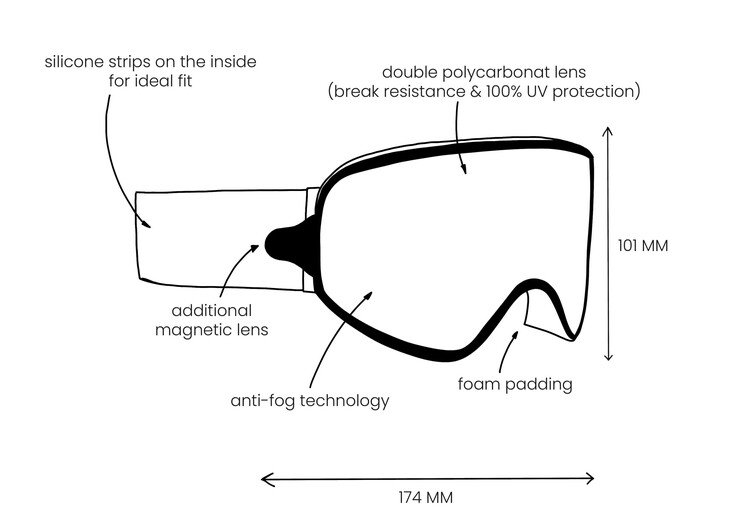 Ski goggles with additional magnetic lens technology
Black additional lens (Black Shadow variant) or blue additional lens (True Blue variant) for good weather or yellow contrast-enhanced and brightening basic lens for poor visibility
ski goggles with anti-fog technology
Our BOB ski goggles have a high-quality anti-fog coating on the lenses. It doesn't matter whether it's bad weather or sweaty descents - the lens of our BOB ski goggles remains fog-free. Furthermore, the BOB ski goggles have a ventilated frame and ventilation slots that ensure optimal air circulation and also prevent the glasses from fogging up. So you can be sure that your vision will always remain crystal clear and that no moisture will collect on the lenses.
Double polycarbonate lens for break resistance and 100% UV protection
The BOB ski goggles offer ultimate protection and clear vision thanks to the double polycarbonate lens. Polycarbonate is an extremely tough material that has excellent resistance to breakage if dropped or hit. The double lenses of our BOB ski goggles also reliably protect your eyes from sunlight. They offer 100% UV protection, protecting your eyes from the harmful effects of the sun's rays.
Silicone strips on the strap for an optimal fit
The strap of our BOB ski goggles has silicone strips to ensure an optimal fit. The three silicone strips ensure that the ski goggles stay securely on your helmet while skiing or snowboarding without slipping. The goggle strap is of course also adjustable so that you can adjust the ski goggles individually to your helmet. This ensures that all-important perfect and comfortable fit that lasts all day long.
Foam padding for pressure-free comfort
The foam padding of our BOB ski goggles ensures pressure-free wearing comfort. It ensures that the ski goggles fit snugly without causing uncomfortable pressure points. The foam padding is soft and comfortable so you can spend all day on the slopes. In addition, it provides insulation against cold and wind.
Also suitable as ski goggles for people who wear glasses
The BOB ski goggles are also suitable for people who wear glasses and offer a comfortable and practical solution for everyone who depends on corrective lenses. JAMIE features a material cutout in the foam padding that allows you to wear your prescription glasses under your ski goggles. Please note, however, that this does not apply to large, fashionable glasses.
conclusion: All girls & boys who are looking for a single ski goggle for all visibility conditions are in good hands with me!