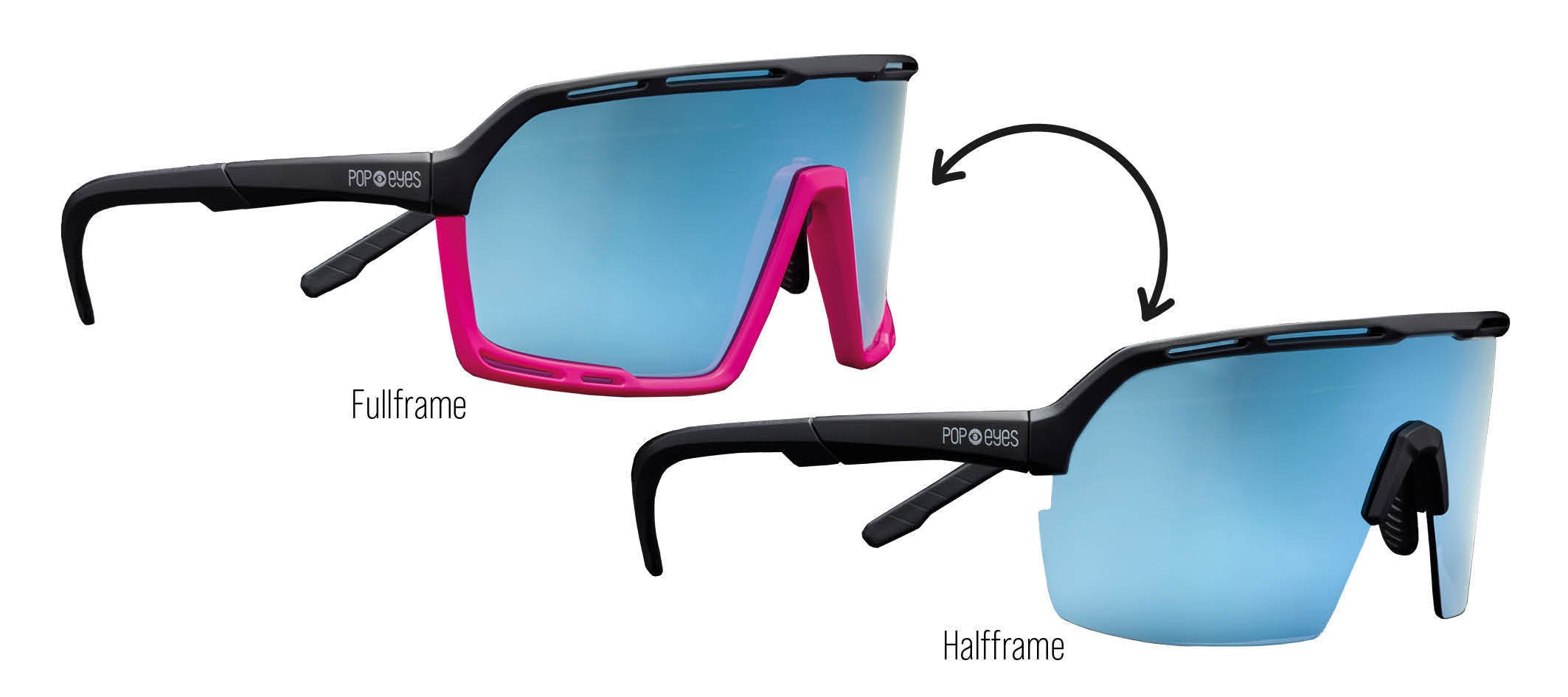 Fullframe vs. Halfframe sunglasses
Choosing the right sunglasses is crucial, not only for eye protection but also to meet specific requirements. When searching for the perfect sunglasses, many come across the question: Full Frame or Half Frame? We have summarized the advantages and disadvantages of each model for you.
THE ADVANTAGES OF FULL FRAME SUNGLASSES
Full-frame sunglasses, also known as full-rim or full-rimmed sunglasses, offer various advantages that make them a popular choice:
Robust and sturdy: The continuous frame ensures a robust construction that can withstand even tougher conditions. This is a crucial factor for athletes who wear their sunglasses during intense activities.
Better protection: Since the frame encloses the entire eyewear, fewer dust, dirt, and other particles can reach the surface of the eyes - thus, full-frame sunglasses provide more comprehensive protection against foreign objects.
Improved UV protection: Full-frame sunglasses offer ideal protection for the eyes. Due to the surrounding frame, they are shielded from harmful UV rays and disturbing glare from all sides.

THE ADVANTAGES OF HALF FRAME SUNGLASSES
We have summarized the advantages of half-frame sunglasses (also known as semi-rimless or half-rim sunglasses) compared to full-frame sunglasses for you:
Lightweight: Due to the use of less material, half-frame sunglasses are often lighter than full-frame sunglasses. This can be an advantage, especially during extended wear.
Better peripheral vision: Since the lower part of the frame is open, the peripheral field of vision may be wider.
Ventilation: The open lower frame allows for better airflow, which can reduce lens fogging.
The choice between half-frame and full-frame sunglasses depends on personal preferences, the intended use, and your individual requirements.
But what if you didn't have to choose? Our sunglasses RILEY offer the unique possibility to switch between full-frame and half-frame, setting new standards in versatility. With just a few simple steps, you can transform RILEY from a full-frame to a half-frame sunglasses. This innovative feature allows you to combine the advantages of both variants and get the best out of your sunglasses depending on the situation!
Furthermore, in the online shop, you can find additional full-frame adapters in three different colors. This allows you to further personalize your RILEY and tailor it to your individual style.
Conclusion: Whether you prefer the robustness of a full-frame or the lightweight feel of a half-frame sunglasses, with RILEY sunglasses, you don't have to make any compromises.